Intelligent Notification
Subcategories
Notification for Experts

"No nonsense, just useful"

Eliminate useless alerts and notifications

Resolve issues quickly with the right information at hand
Take advantage of clever notification that checks before it alerts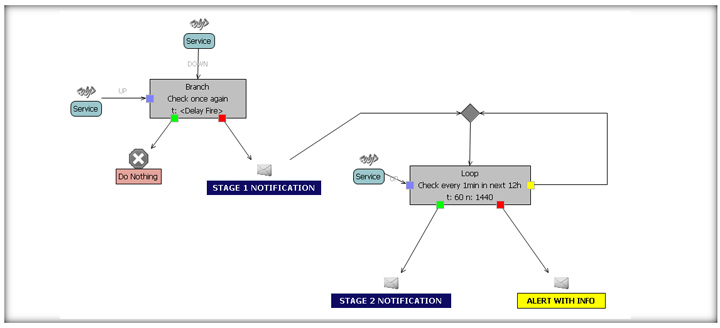 In this example, the expert has delayed the Notification of a service (e.g. User Login). Instead of having the controller report a service to be down immediately, the expert may decide that this issue is only critical once the service is down for several hours. Instead of receiving endless messages, an intelligent system is in place that does exactly what the administrator wants.
Post Troubleshooting Alert
Imagine receiving a message from your management software, packed with information.
Narrow the troubleshooting time by 90%.
This is possible by utilising the checklist function in the graphical editor.
It follows a string of checks, as soon as a status change has been detected.
Easy to use and all based on troubleshooting logic!

Instead of having to check all the basics manually, AmdoSoft/b4 does it in a matter of seconds and sends an intelligent notification.
This function alone has proven to decrease downtime, increase the efficiency of troubleshooting and help significantly to work in a proactive manner.
Flexible Notification Configuration
Easily Change, Edit or Modify your notifications
With just a few clicks, change configurations for the better
CLICK AND CHANGE


With the rule templates, the user can keep one rule active for many systems at once.

This makes it very easy to configure in one place and affect a wide configuration platform.

The same can be done by changing thresholds, or disabling a rule or rule group for maintenance.

Therefore notifications and alerts can be modified within minutes and applied to many situations at once.

"Save time and get more done"
Text Alerts, UI & Mobile App
b4 has it all covered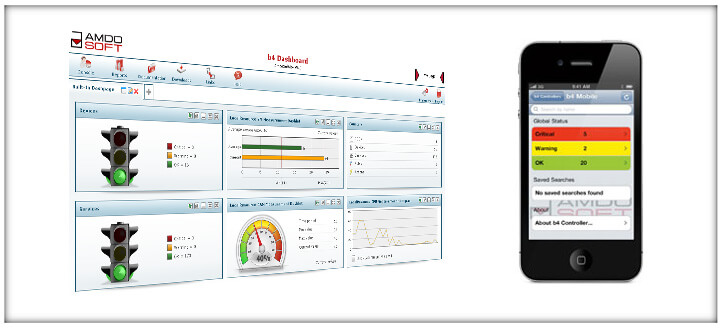 Various notification platforms are necessary to ensure the right person receives a message at the right moment.
Besides the traditional email notification, with AmdoSoft/b4, text alerts can be sent to mobile devices for on the road or urgent notifications.
The b4 User Interface displays status changes by changing from UP to WARNING and DOWN. These can be set to escalate through to the top level monitor if it is urgent.
The user can also specify special searches that show a set of devices on a constant basis and if anything changes to WARNING or DOWN, the administrator can take a look.
The b4 Mobile App, available for Android and Apple devices, can be used to keep track of status changes.