IT Process Automation
Subcategories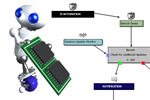 State of the Art Technology

Experts + b4 = IT Automation

Beating the cost of downtime.
Minimising time to resolve issues.
Saving consequential business operational losses.
Ensuring uptime of vital security and data protection technology.
Adding substantial value to Services Providers and IT Departments.
Graphical Configuration of Rules
(Smart Graphical Rules Modelling)
The Graphical Rules Editor (GRE) is one of a kind in the field of IT Automation. This unique technology allows the user to utilise drag and drop methods in order to define a logical reaction to a status change. The rule-logic is defined in detail by the experienced engineers making use of it, meaning that it works in an intelligent manner.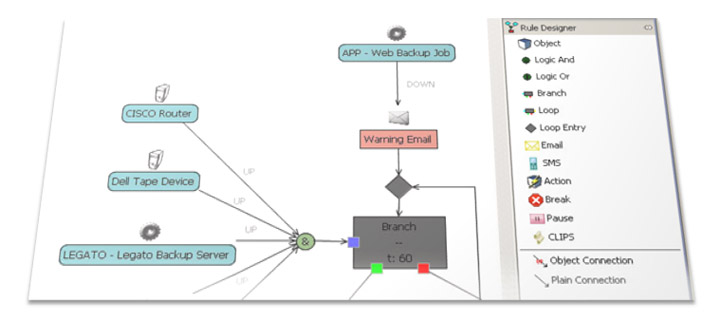 | | | |
| --- | --- | --- |
| | The differences between using the AmdoSoft GRE compared to traditional scripting methods are unparalleled. The complex scripts that make sure emails are sent to the appropriate people, dependencies are checked, various different actions are taken, are all generated by b4. Meanwhile, the user can focus on the logic of the rule and on getting the desired outcome. | |
RULE TEMPLATES

Further advantages of the AmdoSoft GRE include the template Rules.

These allow the user to define one automation rule and apply it to many systems at once.

When the user needs to change or adapt the action of a particular rule, it can be done in the template, affecting the rule group all at once.
AMDOSOFT TEMPLATE DATABASE

AmdoSoft's Rule Template Database is another feature within the GRE.

This allows the user to get a head start for ideas on what to automate and how to do it.

One should note that these rules are completely flexible and can be changed and adapted in seconds.
Preventive Maintenance Automation
Preventive Maintenance is vital for well performing Servers and Workstations. As the word "preventive" suggest, it also ensures that problems and critical downtime are avoided. The difficulty is that most of us don't have time to perform maintenance work, as we are called to "put out fires" on a regular basis. This means that work becomes consumed by critical tasks and these just stack up one after the other as there is no time to perform preventive maintenance. With AmdoSoft IT Automation, regular routines, such as those described in windows server maintenance recommendations, can be automated.

PREVENTIVE MAINTENANCE AUTOMATED


Disk management, data security management, space management, patch management, file management, health and performance checks and maintenance, system trend analysis, automated uptime and more.

With AmdoSoft/b4 the process is made simple and straight forward.

There is usually an initial potential to save 50% in time on routine checks and to increase service output by 200%.

"Save up to 50% on routine checks.
Increase service output by 200%.

Become proactive and see system performance,
security and reliability increase."
AUTOMATED UPTIME

Automated Uptime makes sure that critical programs such as antivirus, backup services, web services etc. are constantly up and running.

Antivirus tools as well as other crucial applications, do not know when they are in downstate and one cannot always rely on on-site restart services.

AmdoSoft's automated uptime closes windows of threat by immediate action.

A triggered rule can perform notifications, restart a service in a given time frame, execute a command, perform a further scan and even delete any threats if necessary.

The same or other possibilities are available for all types of services.
Custom IT Automation
The most powerful, versatile and easy to use IT Automation platform
Automate simple but critical IT processes
Automate complex and time intensive work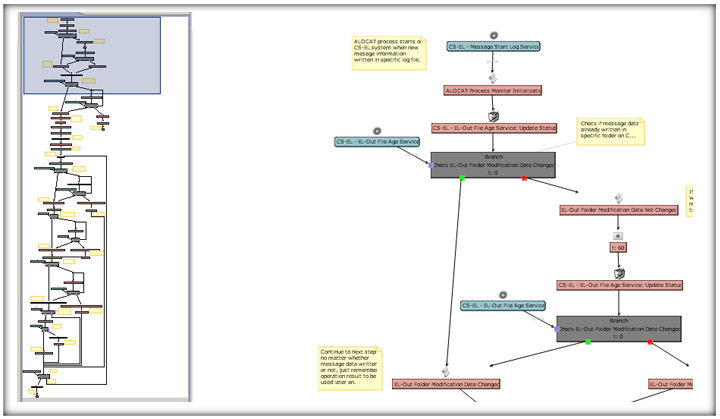 BUSINESS PROCESS INSURANCE AUTOMATION

Custom solutions based on IT automation can represent enormous value in avoiding business process performance issues.

AmdoSoft calls this "business process insurance automation", it means that an automation rule is put in place that makes sure all the operational processes that rely on the IT to work are up and running.

These solutions can be as simple or complex as is required.
AmdoSoft/b4 reacts so quickly that critical downtime is not even noticed
Pain and loss associated with downtime is minimized
Don't break a sweat while b4 does exactly what's right