Who
we
are
Established in 1998, AmdoSoft is an IT automation software vendor with focus on protecting and automating business critical processes that organisations value today.
With more than 20 years of experience, we call ourselves experts when it comes to checking IT infrastructure and applications, as well as automating and securing IT-supported processes.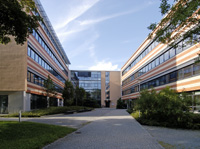 What
we
do
b4 is a software automation solution providing our customers with an intelligent tool that frees their employees from tedious routine tasks, ensuring a more efficient workflow and improving the work environment.
How
we
do
it
The core of b4 is the Graphical Rules Engine (GRE), a rule database based on graphical modelling that enables the automation of IT processes and the correlation of data through simple rule generation. This allows statements to be made about the utilization and possible bottlenecks of the system.
Robotic Process Automation (RPA) is a technology based on the use of virtual software robots. Our b4 Virtual Clients work on the user interface in a way comparable to how a human would do it.
The activities of real users are simulated on the screen and objective data on availability and performance of applications is collected at defined measuring points (E2E monitoring) and structured, repetitive business processes are carried out automatically.
Repetitive and time-consuming processes can be automated and tasks performed by software robots. Whether in human resources, accounting, IT, purchasing or software development, our b4 Virtual Clients are industry-independent and can be used in all areas of the company.