Strategic
partnership
between
AmdoSoft
and
Altair

Strategic partnership between AmdoSoft and Altair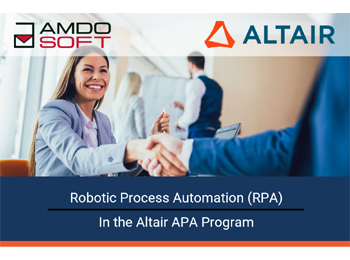 AmdoSoft Systems is pleased to announce their strategic partnership with Altair, a global technology company providing software and cloud solutions in the areas of simulation, high performance computing (HPC), and artificial intelligence (AI). The focus of this new working relationship is to help end customers gain value from the automation benefits of state-of-the-art RPA and data analytics technology and make it easy to integrate software robots alongside their business processes.
AmdoSoft/b4 will be made available through the Altair Partner Alliance (APA) program. The APA provides existing Altair customers access to more than 60 third-party solutions that integrate with existing Altair solutions.
David Griffith, Managing Director of AmdoSoft UK said: "Robotic Process Automation (RPA) is a gamechanger for many companies as it relates to business process automation and digital transformation. This partnership will enable Altair's customers to easily take advantage of RPA in combination with Altair's data analytics software".
In a time where end customers are under immense pressure to increase their efficiency, RPA, one of the fastest growing technology sectors, is gaining interest while adoption in large enterprises is driving this growth. AmdoSoft has recently completed a proof of concept (PoC) with Altair's technical team to demonstrate the capabilities of the b4 technology in conjunction with Altair's data preparation solution Altair Monarch™. Altair Monarch enables an agile and iterative process that transforms data into a trustworthy and consumable format and seamlessly hands it over to AmdoSoft robots which then input that data into the user interface (UI) of any given application.
"For more than a decade, Altair's customers have enjoyed access to a wide variety of third-party simulation applications via our APA program. We look forward to extending the benefits of this program to our customers who are using data analytics for various applications. We are excited to have AmdoSoft become our first data analytics partner through the APA. The combination of AmdoSoft's RPA solution with Altair's data analytics suite enhances customers' ability to streamline their automation efforts from repetitive administrative tasks to highly complex, mission-critical business operations," said Piush Patel, Sr. Vice President, Strategic Relationships.
Paula Harris, Business Development Manager at AmdoSoft made the following comment: "I'm delighted to be able to work with Altair to encourage the use of the AmdoSoft/b4 product suite to benefit the industry."
Altair supports customers across all industry verticals with a wide range of requirements who can now benefit from utilising RPA bots through the APA.